10 reasons to shop somewhere other than Walmart
About four years ago, I was leaving Walmart and I was in the worst mood. I thought, "Why am I always grumpy when I leave this store?" That was the day that I decided once and for all that I was going to start grocery shopping somewhere else.
All of the sudden, I realized that low prices are NOT the most important part of grocery shopping. I spend more time at the grocery store than any other place during the week (aside from my home). Why should I torture myself by spending time at a place where I don't like to be? So, take a look at my top 10 perks you WON'T find shopping at Walmart and see if you agree.
#1: Walmart doesn't always have the lowest prices
People like shopping at Walmart because their prices are lower than everyone else. Well, I thought I would put that to the test. I went to Walmart and bought 14 grocery items. Then I went to Smith's and bought the equivalent 14 items there as well.  Guess what? Smith's was cheaper.
That doesn't mean that everything at Smith's or any other grocery store is cheaper than Walmart (see the chart below). However, you might be surprised to find out that you're not really saving as much money as you think by shopping at Walmart.
#2: Short lines
One time when I was checking out at the grocery store, my one-year-old stood up in his seat in the cart. Then my three-year-old decided to give the cart a quick push. I caught all of this out of the corner of my eye. Thanks to my cat-like reflexes, I caught my one-year-old in mid air right before he landed on the hard floor.
It is experiences like these that motivate me to shop at grocery stores with the shortest lines.  I can honestly say that I have to wait in a long line EVERY time I go to Walmart. However, I almost never have to wait in line when I go to other grocery stores such as Smith's or Macey's or Harmon's. Plus, other grocery stores usually have a sticker, a piece of candy or even a balloon to give my kids while I am waiting to pay for my groceries. Walmart does not.
#3: Friendly sales associates
I really enjoy shopping at a local grocery store called Harmon's. They pride themselves in excellent customer service. From the bakery to the meat department, they go above and beyond to help me with whatever I need. I love it! I feel relaxed when I leave that store. And why wouldn't I? Everyone was smiling at me everywhere I went. Unfortunately (and I know you can agree), the sales associates at Walmart are not very helpful nor friendly.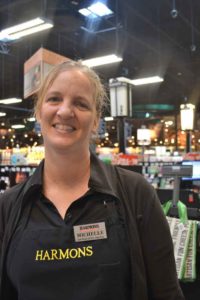 #4: Samples & kid-friendly stuff
I probably grocery shop at Smith's more than any other grocery store. That's because they have all these wonderful samples throughout the entire. They give away apples, bananas and oranges for FREE in the produce department and the bakery always has a sample. Plus, each checkout line has a candy or a sticker for my kids. It keeps them happy and entertained the entire time.
#5: Specialty items
One day I went to Walmart to buy some Pop Rocks. I couldn't find them anywhere in the candy aisle. There was a Walmart worker nearby so I asked where I could find them. She said, "Oh, those are specialty items. We don't sell them at Walmart." Really?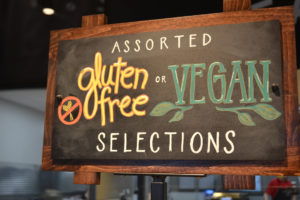 Although I would hardly consider Pop Rocks a specialty item, that meant I had to go to another store to find what I needed. There are many grocery stores out there that pride themselves in selling local and specialty items. That is just another way to show interest in a person who is gluten-intolerant or someone who wants a special ingredient for a new recipe.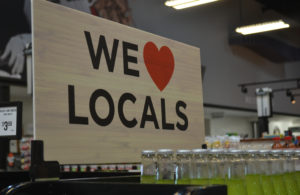 #6: Delicious produce/bakery/meat/salad bar
Several years ago, I wanted to buy a large ham for a Sunday dinner. I went to Walmart and asked the butcher if he could slice the ham. He said no. Some crazy rule about the types of meat they were allowed to slice. So I took my business to Macey's and they sliced the same ham, no questions asked. Quality service and quality food is important to me. It tell me that they care about their customers.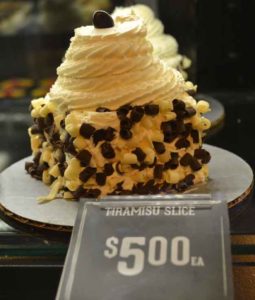 Although it may seem crazy, I LOVE going to certain grocery stores when I want to eat out for lunch or dinner. Harmons, for example, has amazing salad bars and deli food. It's gourmet grocery shopping at its best.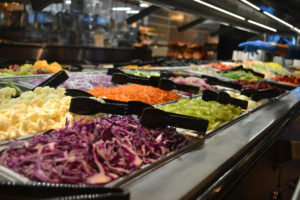 #7: Baggers
This is a must for any mother. The last thing I want to worry about when I'm shopping is bagging all my groceries. I am usually busy chasing my kids around. Sometimes I just want to give the baggers a big hug after they load my groceries in my car. It's the little things that make me want to come back. Walmart of course NEVER takes your groceries to your car.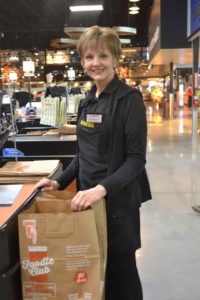 #8: Bargain prices/sales
I have a friend who only shops at Target. She loves it there because they have a money-saving app called Cartwheel, Redcard (which saves 5% everyday), and online coupons. I love Smith's because they give away a FREE item every Friday, have an easy-to-use app with exclusive coupons, reduced and clearance items, awesome coupons that they send you in the mail and discounts on gas.
Walmart, on the other hand, doesn't seem to ever have anything on sale. If you want to find something on sale, you have to do all the work of price matching stuff and sometimes they don't accept it.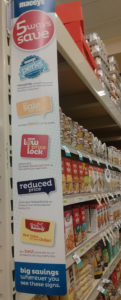 #9: High-quality items
This is something I just have a hard time finding at Walmart. There is a reason why a lot of people don't have a wedding gift registry at Walmart. It's kind of a ghetto, low-quality place to shop.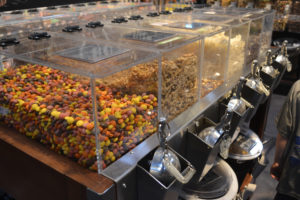 #10: An overall pleasant shopping experience
If I am happier when I leave a grocery store, then I know it a place coming back to. I don't ever feel that way when I leave Walmart so I just don't go there very often.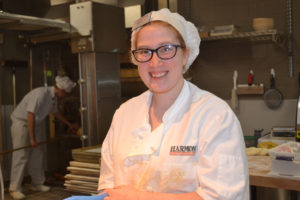 So what do you think? Do you enjoy shopping at Walmart or not? Leave your comments below.